Plato Newsroom #5: Naviband, Buben, Žuravl, Борисовский Тракт, surf punk, Товарный, Nochy
7 reasons to love Belarusian music
Greetings, ladies and gentlemen. This is the fifth episode of the Newsroom project, a news podcast from the Radio Plato team about new Belarusian music. In today's episode:
folk-rave from Nochy;
Naviband's version of "Kupalinka";
folk-rap crossover by Towarniy from Mahiloŭ;
Buben on the new "Submarines" EP and the secrets of staying creatively prolific;
the debut track from the indie pop band Žuravl;
un-typical indie rock production on a new EP by surf punk;
and in closing, Borisovskiy Trakt tells about their journey from making Molchat Doma covers to composing their own songs.
Get comfortable, we're taking off!
New single from the electronic folk outfit Nochy
Today's episode starts strong. Indie pop band Nochy released a new single "Muž Nie Idzie" back in April — a great track to dance the Midsummer Night (Kupalle) away to. Frontwoman Jula tells more about mixing folk with electronics:
– Our relationship started back in M. Glinka musical college ten years ago. Paša studied guitar and composition, I am a vocalist and composer. We've been playing together as a band since 2019. Our track "Muž Nie Idzie" combines folklore and electronics. Folk elements permeate our work and in this particular track, they are definitely the most pronounced. The song is an ordinary story of a girl looking for a boy. Folklore is about us, our history and our identity – what we love and respect. "The roots are twining, growing in and creating new ones with an endless song". Music knows no barriers and it is life's everyday struggle that serves as creative fuel. Fully professionally equipped, we remember that the most important thing is to preserve the vital energy and love the music in you more than yourself in music.
Naviband release their version of "Kupalinka"
The folk theme of the episode is carried on by the famous Belarusian group Naviband. They have released their version of the classic folk song "Kupalinka". Interestingly, the track is a stylistic departure for the band. Its dance-pop sound would fit a DJ playlist or a TikTok reel. Arciom Lukjanienka, the singer and guitarist had this to say:
– The work on this song came about spontaneously in the end. We have been anticipating working on it and wanted to make it something special. And that's how it did turn out. To us "Kupalinka" is a true gem of Belarusian culture, its lyrics and melody are an embodiment of national cultural codes. The little-known fact is that the song actually has an author, despite many considering it a folk song. The work on the track consisted of Aliaksandr Tabolski making the basic beat and the drop in there, while Ksienija Žuk did the vocals. And the final arrangement was made by Tabolski, as well as the music video.
It's an unusual release, not really a song we can do live at concerts. It's almost more of a campaign. We want Belarusian song and culture to live on in the global context, because what's happening to culture inside Belarus nowadays brings us no joy at all. And only by doing such small steps, by continuing to sing our own songs, to support each other, by keeping the discussion alive and not going silent - only then Belarusian culture has a chance at survival, even abroad.
Rap-folk debut from Towarniy
This charming crossover track is called "Pramień". It was released by the Towarniy project out of Mahiloŭ. (Its members) Worraps and DARIỲA are responsible for vocals here, the music was produced by SOULOC8. The musical project is the face of an eponymous capsule streetwear brand from Mahiloŭ. The music video for this single merges the brand aesthetic with the atmosphere of the track to beautiful results. Pass the mic to Worraps:
– Let's start with the naming. Towarniy is a Belarusian limited goth clothing brand. This single is under the brand's name, myself and DARIỲA are wearing Towarniy outfits in the video. The track's name is about the ray of light that gets through the darkness. That's the metaphor we use to describe today's reality both literally and more broadly. The stronger the support, the stronger our ray of light hits the eyes.
Summertime vibes of "Submarines" EP by Belarusian electronic music veteran Vladislav Buben
And now... for something completely different. Next up is one of the key players in the Belarusian electronic scene Vladislav Buben. The man who has been instrumental in promoting the genre via official radio and television channels since its beginnings. Participant in countless improvisational and poetry-related projects, still carrying the torch as one of the most prolific producers in the country. We checked in on him following the release of "Submarines" EP which charted pretty high on Beatport and other platforms this spring.
Vlad, please tell us more about this release. How did it come about?
– "Submarines" is a relatively fresh one. The recording has been done this winter, so it carries a lot of the longing for summer and warmth mood. That is why I did the cover art in the sunny yellow palette. Its geometry reflects my inner state, longing for light, summer, and positive emotions. Together with the label manager Anastasiya Labada we do videos for each release as well. Big Buben Studio is an entire music laboratory of sorts.
What are the projects you are working on now?
– I am collaborating with a Brazilian electronic musician Cement Tea at the moment. It's going to be a digital hardcore/noise/industrial project. I also did some remixes that will come out on the Italian label Trench Records recently, as well as tracks for a compilation on Let's Techno label out this late summer. Aside from that, I also completed a rather challenging and controversial project with a famous iconic Norwegian musician Karsten Hamre. It's a poetic piece with a dark ambient/industrial/experimental soundtrack. He wrote the lyrics in English and Anastasiya Labada translated them to Belarusian.
What is the secret to staying as creatively prolific as yourself?
– Some people say I release too much. But in the very fast-moving world of today with huge competition, if you want to stay relevant in the scene, you have to stay productive. Work is the way of life for me. Also, I never run out of ideas that I can implement in my home studio. And I get great support from my family. This is really important. You get a lot accomplished with a good psychological atmosphere at home and a complete understanding from your immediate family.
Debut release for indie pop newcomers Žuravl
Let's get back to covering debutants. Žuravl is a duo just starting out but already having an interesting sound. Its frontwoman Anastazja talked to us about the conception of the band, the single, and the fascination with Belarusian łacinka (Latin alphabet):
– The band was founded by myself and a Ukrainian guitarist Bahdan in Poznań. It all began when I started frequenting klubokawiarnia My, where I performed singing my songs playing guitar. There I got noticed by some musicians, including Belarusian expats, who invited me to collaborate. Among them was Nikita Bubashkin, an ex-member of Groove Dealer. Nowadays he's our music producer.
The creation of the track called "Storm" coincides with the conception of the whole band. Although the lyrics are very melancholic, the chorus was written in less-than-melancholic circumstances. It was a very hot summer and I just really wanted it to rain. I wrote down the phrase «Ya khochu, chtoby shel dozhd'» in my notebook and it fit the track so well that I decided to leave it in.
We have become part of a young Belarusian label My involved in the promotion of Belarusian music and culture, which explains why our band name is written łacinka. People are still constantly surprised about łacinka after they ask us what is that word (band name) they don't know.
(A band called) surf punk with a new release that sounds like a perfect summer soundtrack
The indie lo-fi scene in Miensk is alive as ever, and newcomer band surf punk releases a new EP called "photos taken on august 32/kill all sounds". It contains six tracks driven by guitar and dreamy vocals which would be perfect for your walkman while shredding down the street on a skateboard or falling in love in the wee hours of the short summer night. Here's to being young! Word to the founder of the group:
– I wanted to make it sound as un-studio-produced as possible. The only live recorded instrument here is the guitar. Drums and bass are made in a DAW, which is not very typical for contemporary indie bands. I recorded the tracks myself with a little help from my bandmates. It took us about half a year to finish this release. The hardest part is reaching your audience. There are probably many kids that would like our stuff but have never heard of us. To my listeners I wish to live every day of the coming summer to the fullest and don't forget that it does not end on September 1. Summer is the state of mind.
New single from the young band Borisovskiy Trakt
The final highlight of this episode is a track called "Retrograd" from Borisovskiy Trakt. Founder Mark details the creation of the single as well as the musical journey of the band:
– The year was 2020. We graduated from high school, listening to way too much Kino and got our first guitars from our parents. We began by playing covers of all sorts of bands, including Molchat Doma. It only lasted for some time, until one of our former band mates got a garage. That is where we composed the first song of our own, as well as the whole "84" EP.
The song "Retrograd" embodies the sum total of my emotions over a long period of time. The track is about the feelings of a protagonist being antagonized by the world and his own emotions.
Our biggest hurdle is financial struggles. We're students and music-making is a costly hobby. That and a shortage of free time, while trying to juggle studying, work and the band. And of course the sorry state of the music industry in Belarus.
---
That's it for today. This was the third episode of the Newsroom podcast – the music news show by the Radio Plato team, where we gather info about the news of the Belarusian electronic music scene. The podcast is brought to you by our team: Reemotto, Stwone, Helga, Krik, Schmoltz, Nadya Ya, Stereobeaver and KorneJ. Cover art by chernova.ya. If you're a Belarusian making music, share it with us on social networks and we'll share it with the world in our next episodes. Subscribe to the podcast on streaming platforms, support us on Patreon, or simply Paypal us a donation – this helps us do more cool stuff. This was Plato's Newsroom. Hasta la vista and see you soon!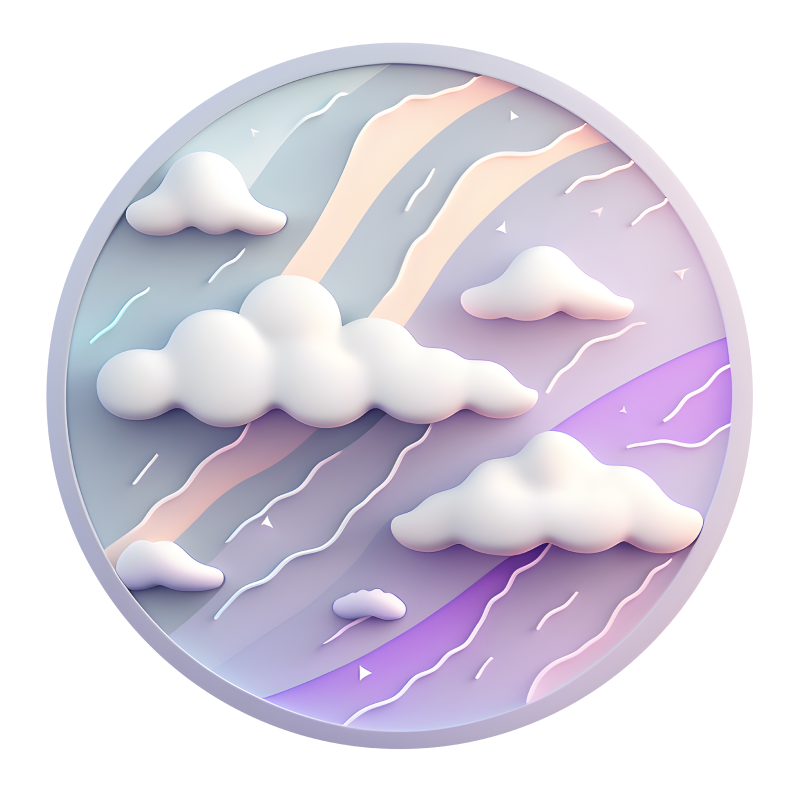 Manage & Improve Your Mental Health
WeatherMind empowers you with insights into how the climate influences your health. Offering tailored weather predictions, intuitive self-assessments, and reflective journaling, our app guides you in optimizing your health and comfort
MORE NEWS