Newsroom is back!
The second season starts with new Belarusian music of summer 2023
Greetings and welcome back! You are listening to Newsroom, a podcast about new Belarusian music. My name is Kornej and this is the second season of our project. It has been about four months since our last episode so we decided to kick off with the summer 2023 overview in order to catch up on all the cool stuff released during our break. Here we go!
In today's episode:
Lyrical neoclassical piano album by Alexandr Orlovich
Summer releases of the hip hop/house producer Sigray
The new azure compilation by Blue Tape
A fresh single from the indie project Domsun
Chill trip-fonk from Uhead
An audioplay by Open Focus
A house music compilation from the Molodechno label Sense
Let's dive in!
Neoclassical album "Musical Stories" by pianist Alexandr Orlovich

A lyrical opening of the episode courtesy of Belarusian pianist Alexandr Orlovich and his album called «Musical Stories». Alexandr has started playing publicly fairly recently — in 2021. His live shows consist of exclusively original pieces and improvisations. In his own words, he has tried to come up with a fixed set list for playing live shows but it turned out quite challenging. That is why some degree of improvisation is an integral part of his shows.

– I started music school at the age of 9, which is quite late. I remember sitting in with my father and sister playing piano since very early childhood, singing and playing along. Perhaps, I may have ended up playing a different instrument, but it was the piano that was so permanently present in my early life.

I wanted to have a separate standalone collection of favorite musical stories and decided to record them. I chose the most interesting, beautiful life stories that have happened to me and rendered them into music. That's how «Musical Stories» came to be. This album is about me, about the people around me, about the places I've been, events witnessed — everything that has left a mark on my life. Every time I play one of these pieces live, I see how it resonates with people, because I see their genuine emotions, it is always visible in their eyes, in their expressions.

Check out a video of Alexandr performing on the pieces on the Minsk sea shore.



New house and hip hop releases by Sigray

We continue sharing the treasure trove of new Belarusian music. Next up is Sigray — Belarusian house and hip hop producer. We have previously covered his «Hot Sunshine» — a house edit of an evergreen classic. Today we're covering his two releases from this summer — «Make You Sweat» EP and a Do You Like Trains? remix out on Ezhevika label.

– One of my main releases this summer is the mini-album Make You Sweat, consisting of four tracks. It was released on the Lisztomania label, which specializes in releasing underground house music. Their back catalog features both newcomers and recognized visionaries. I got contacted by the label-runner Igor Gonya a.k.a. Simplex Motive, back in summer of 2022 after he got hooked on one of my older tracks, the «Gonna Make You Sweat» remix. He had an idea to make an EP on Lizstomania out of it by adding a few other of my tracks. One of the tracks I sent him for the planned release was a live session demo of me playing along to a sample from 'Black Man In A White World' by Michael Kiwanuka. Igor like the initial idea and he wanted to collaborate on it. This is how this EP came together.

Back in June Ezhevika label put out a compilation of remixes for the band called Do You Like Trains? which I took part in. It's a hip-hop EP, featuring such artists as Ain Souf and Awlnight bringing their signature sound.
Blue Tape expands the label's palette with a new Azure compilation

Another notable house/hip-hop release from Belarus comes from the Blue Tape musical community. They have released their second compilation entitled Azure, consisting of tracks by producers from all over the world. We give the floor to one of the leaders of the label Sasha Ain Souf.

– After the release of the first compilation, we met many cool producers, some of whom took part in the second compilation. We have musicians from the USA, Great Britain, Austria, Poland, Latvia, Belarus. It turned out to be a solid compilation with a summer vibe.
Domsun dismantling cities in his new track called Pay Attention

Next up is the indie electronic single by Domsun, a project run by Boris Klyuchnikov. We have already covered his previous single Pines, which was stylistically self-described by the author as «mobidgy sound». Today's release has more of a trip-hop vibe, with a dash of Twenty One Pilots. Here is Boris's own comment:

– The lyrics are my favorite part of the track. It's about emigration, about dismantling Minsk in order to re-assemble it in another place. The chorus is «Pay attention, dismantling cities takes time». In the first rap part, the dude wakes up, walks through the kitchen with a coffee, while a huge wrecking ball starts destroying the building he lives in. Much of the text just spilled out of me seemingly not making sense at the moment, but then pieces started coming together. It's a process of finding the proper interpretations of your own lyrics that just came to you unbeknownst.
Rocking on emo fonk waves with a new track from Uhead

We continue the Newsroom summer edition with Artem Staver and his Uhead project mixing post-punk and fonk stylings. In August, he released the gloomy-sounding single called «Chvali», the forerunner of his upcoming album.

– I wrote the track Chvali back in late spring. The message here is pretty obvious in my opinion. A wave is a metaphor for an emotional state that overwhelms you. The chorus is a wordplay about dark forebodings, not knowing if something bad is coming. And the track is a reflection on this topic.
Audioplay by Open Focus about searching for answers when «everything went wrong in the universe»

Up next is one of those projects that give you goosebumps. Open Focus is a collaboration between the drama enthusiast Zhenya and musician Stas Chekh. They have released the concept album «Backbone» under the name Open Focus. The album is made up of 16 compositions based on the theatrical piece by a modern Belarusian playwright (whose name we shall keep secret). The work is an experimental album about trauma, pain, fears and the nightmarish reality surrounding us nowadays. We spoke to Zhenya to find out more about the album.

– When I was working on drafts, readings and performances, I already realized I need an original score, not something found online that would take ages to clear rights etc. That's how I started working with Stas. I was describing the feel of the tracks I needed for certain scenes, like «as if you're lying in a coffin, and sand starts falling on the lid».

«Backbone» is actually an audioplay based on a text by a modern Belarusian playwright. When I read the piece, I immediately thought it would be cool to work on it musically. Initially, there was an idea to make an audiovisual performance that would meditatively immerse into the text through music and animation, which is very beautifully written. That is why I did not translate the play it into Belarusian or Polish, but left it as written by the author.

For me, this project is about finding an answer when everything went wrong in the universe. Why do people suffer so much without a sense of belonging and feeling so much pressure from imposed social roles of a woman, of a mother, of an employee. When did people decide the can get over on each other, when did this become a norm and when did shaming become so commonplace. The existential issues of everyday life. I subtitled the project «a history of a wandering spirit looking for answers throughout the history of the universe».
A smart house compilation by Sense label

The Sense label out of Molodechno continues a series of well thought out compilations featuring Belarusian and overseas producers. This time, the label's curators focused on House and its various flavors. Word the the label founder Serge Gran+:

– Previously, when putting together a compilation we just asked artists for a few new tracks. This time we decided to focus on a certain genre for the particular compilation. This one is all about house, as creatively interpreted by each artist. This installment features Belarusian producers Gary Gagarryn, aka Pekla, myself as Gran+, a new musician nWave with his own unique sound, Johnny N.O.ZH. who sounds somewhat inspired by Plaid added his own flair to the release, Daru — the local guru of live electro sets, my other project Penaplast and the mighty progressive house project Estarlik from Spain. We wanted to make a solid house music compilation for the dancefloors with varied flavors and our own unique twist.
---
This concludes part one of summer 2023 overview, stay tuned for more next week. The Newsroom podcast is the music news show by the Radio Plato team, where we highlight fresh Belarusian electronic releases. The podcast is brought to you by our team: Reemotto, Stwone, Helga, Krik, Schmoltz, Nadya Ya, Stereobeaver and KorneJ. Cover art by chernova.ya.
If you're a Belarusian making music, share it with us on social networks and we'll share it with the world in our next episodes. Subscribe to the podcast on streaming platforms, support us on Patreon, or simply Paypal us a donation – this helps us do more cool stuff. Keep the fire burning and see you soon!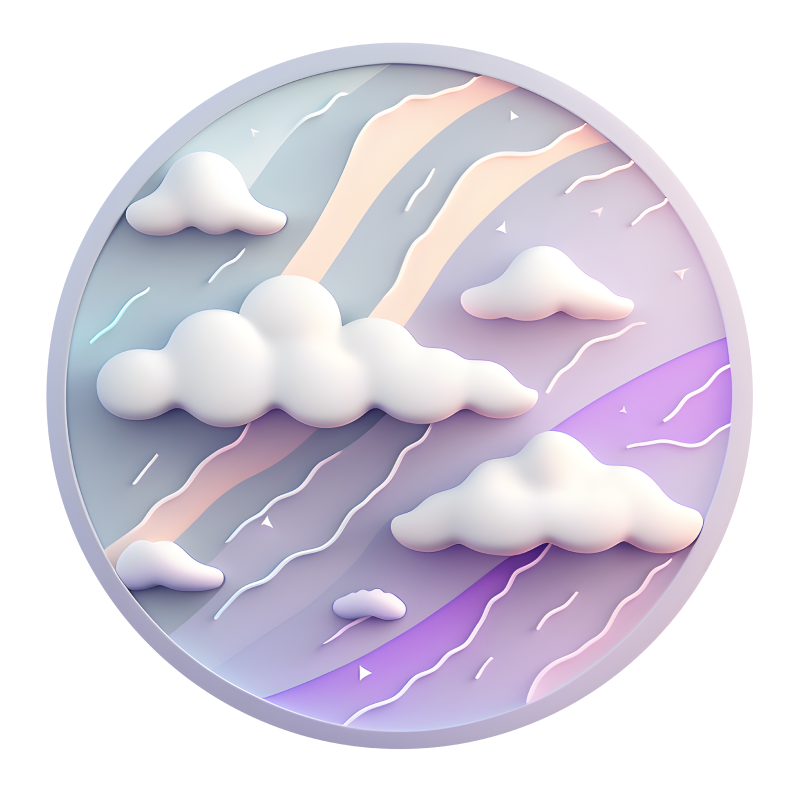 Manage & Improve Your Mental Health
WeatherMind empowers you with insights into how the climate influences your health. Offering tailored weather predictions, intuitive self-assessments, and reflective journaling, our app guides you in optimizing your health and comfort
MORE NEWS